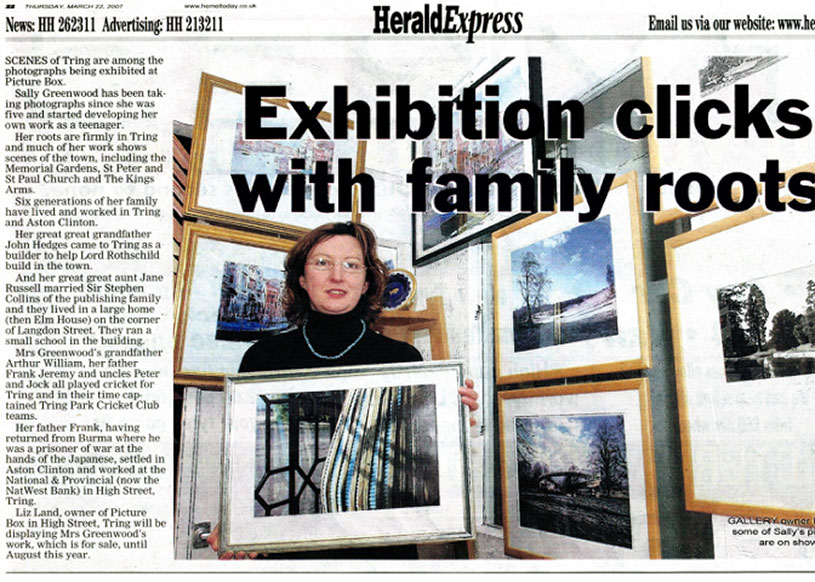 March – August 2007 – Reported in the Herald Express:
Scenes of Tring are among the photographs being exhibited at Picture Box in Tring High Street.
Sally Greenwood has been taking photographs since she was five and started developing her own work as a teenager.
Her roots are fimly in Tring and much of her work shows scenes of the town, including the Memorial Gardens, St Peter and St Paul Church and The Kings Arms.
Six generations of her family have lived and worked in Tring and Aston Clinton.
Her great great grandfather John Hedges came to Tring as a builder to help Lord Rothschild build in the town.
And her great great aunt Jane Russell [from Marsworth] married Sir Stephen Collins of the publishing family and they lived in the large home (then Elm House) on the corner of Langdon Street. They ran a small school in the building.
Mrs Greenwood's grandfather Arthur William, her father Frank Jeremy and uncles Peter and Jock all played cricket for tring and in their time captained Tring Park Cricket Club teams.
Her father, known as Jerry Hedges, having returned from Burma where he was a prisoner of war at the hands of the Japanese settled in Aston Clinton and worked at the National Provincial (which became the NatWest Bank) in High Street, Tring.
Liz Land, owner of Picture Box in the High Street will be displaying Mrs Greenwood's work, which is for sale, until August this year.