With Photography®
— not just an autobiography
Sally is a visual storyteller who started to write 'With Photography® — not just an autobiography' in 2008, using her own photographs taken since the early sixties along with those from her family archive, taken by her father, grandfather and great-grandfather. Other noteworthy contributors go back to a time before the Kodak revolution that brought photography to the masses. 
This flagship book of the 'With Photography®' series is Sally's life's work. 
Sally started to take photographs two decades before the start of the Information Age in the 1970s that we are still living through today. Intertwined with more general explorations and musings of the medium the book's timeline starts in the Second Industrial Revolution, from the late nineteenth century.
ISBN: 978-0-9928407-9-2 (NEW EDITION – DUE IN 2021)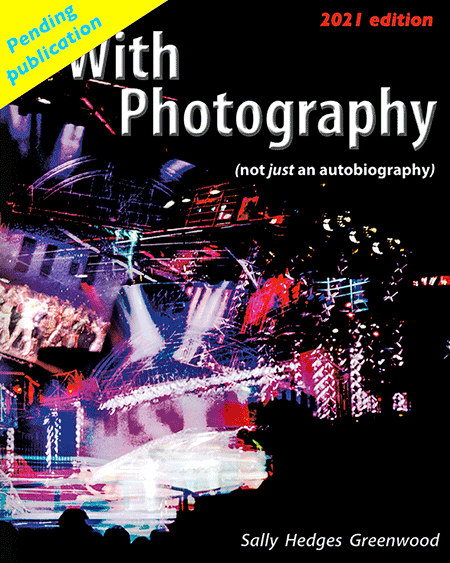 I am just one representative of those who started taking photographs in the pre-digital age; an unknown, but I have written a book that could be classed as a retrospective; speaking the thousands of words that photographs normally silently contain and covering different aspects over several lifetimes.
Photography may have its roots in the times of the Ancient Greeks and Chinese, but we only found ways to fix images onto a surface relatively recently in generational terms.
When Kodak's first camera went on sale in 1888, photography became accessible to everyone but it was still mainly financially prohibitive. Not even 150 years later, Smartphone technology touches the majority of us — to the point where it has become challenging to opt out of owning a camera.  
My ancestors were amongst the first to own a Kodak even before Eastman's first 'Kodak's #1' camera with its roll film. They started a way of life of recording their own family and social histories with glass plate cameras. The traditions of charting the lives of the generations as they passed and the keeping of the photographs for posterity have continued ever since. Before photography and perhaps without the finances to have a portrait painted, with no actual likeness to prompt us, we risk knowing little about those who lived before photography was invented. 
Photography was complex in the sixties and seventies and I remember wishing that we had faster film with more frames, less grain in evidence, better focusing and so on; we even had to carrying two camera bodies to achieve success when shooting black and white and colour simultaneously. It was so expensive and much of our quite recent social history is lost because of it! But now there is very little lacking and less perceived value to the thousands of photographs we take; so much so that the medium risks being taken for granted.
The stories are now written as I have been told and as I have learnt that it was before me and as I myself have lived it and relied on the medium in order to survive.
The exploration in With Photography is unusual as it is the photographs that drive the narrative, whereas conversely pictures might illustrate the though-provoking stories.
It became of great importance for me to chart photography's story from the point of view of someone living With the medium. The different ways of seeing and capturing the world around us have changed, partly facilitated by the advances in the technology. Have you ever though to ask why some photographers take the pictures that they do? 
Conceptually, unlike the written word, a visual image can gather layers of meaning that evolve as we do with each year that passes. Realisations of just how powerful photography can be was another motivation behind the writing of With Photography® — not just an autobiography.
The exploration is unusual as it is the photographs that drive the narrative, whereas conversely pictures might illustrate the thought-provoking stories. 
Questions are answered that might be asked in the future… about how it was before the digital era; perhaps even those that no-one will think of asking.
This is not a book written just for photographers. We all live with photography and there is something for everyone within its pages."
A new edition will be published in 2021.
Please click on an image below to expand.