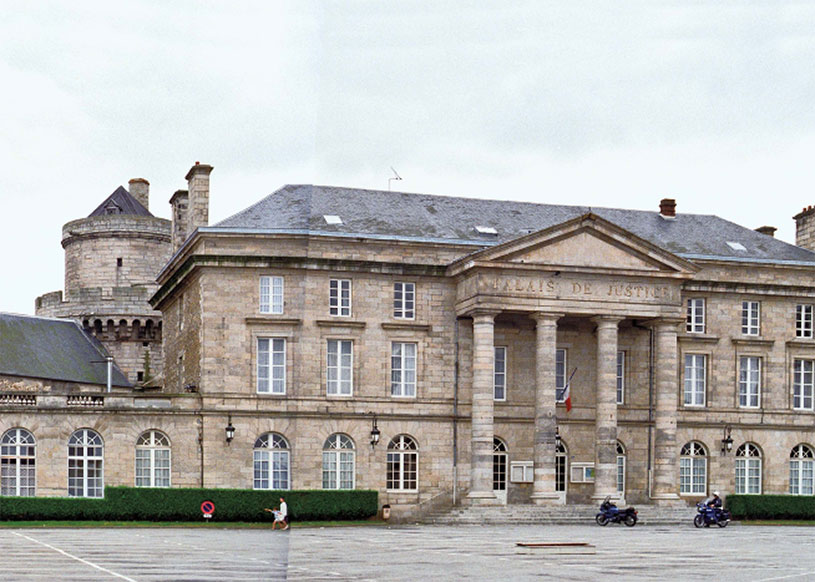 Place Foche, Alençon
Marguerite de Navarre, who became Marguerite d'Alençon, was one of the most influential women in France. She was born in 1492 into an aristocratic family; her brother was to become Francis I, King of France. Marguerite's life centred around him and she benefited from the education that he received, which was far more extensive than most girls were exposed to at the time. At the age of sixteen the decision was made that she should marry Charles, the Duke of Alençon. Raised to be a soldier, he was not very educated, in stark contrast to his wife. Marguerite settled to live in the austere Château d'Alençon, which was the prison when I lived in the town. Sitting alongside the Palais de Justice and La Mairie in Place Foch, the lineup of buildings is impressive and often photographed.
The first time I photographed Alençon's prison, courthouse and town hall was in 1971. I was fourteen years old and on holiday with my parents with no idea that I would live nearby and hear the clatter of cutlery on the prisoners' metal plates reverberating around the square at mealtimes or be invited to weddings in the Town Hall. Luckily I have no personal experience of the courthouse!
The most memorable of the weddings I attended was in 1999 when one of the little boys I had looked after in the seventies officiated at the wedding of another inside the magnificent building. The special moment was decisively captured but only just because the official photographer stood up in front of me at that precise moment—reminiscent of my grandfather's efforts of photographing Royals!
The compilation above is the first of two that I have taken where there are very few cars in the foreground, because it is now a car park mostly bursting with vehicles. In pride of place is our Austin Cambridge! This is my very first joiner, taken long before the term was coined by David Hockney.